Biff's Shadow Diorama Page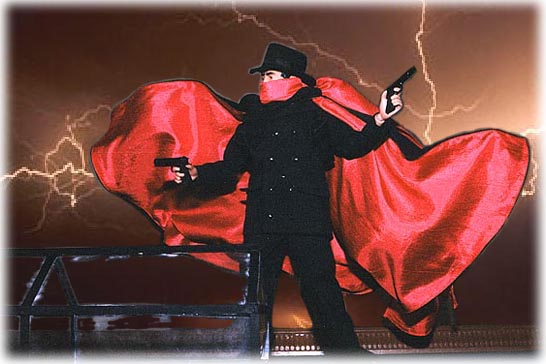 Welcome to Hogan's Shadow Diorama Page, featuring my custom Shadow (G.I. Joe) figure. The above figure represents a true team effort. I had a general idea what I wanted, but it took the skills of several very talented artisans to make it come to life. The figure is actually a Brazilian G.I. Joe. Unfortunately, they are not being made anymore and may be hard to get ahold of. The jacket, trousers and cape were fashioned by one of the most skillfull G.I. Joe tailors in the world - Valarie Briggs (PDXAngel1@aol.com). In its first incarnation, Val made a wonderful cape that hung down around the Shadow. But a year later, Val created the above featured cape - complete with wires sewn into the lining to create a windblown effect. It was a tremendous challenge to make it work right - and look realistic - but Val pulled it off. Val acquired that hat from another source. It's a beautiful black, felt fedora that looks just like the real thing. The Shadow's black leather shoulder holsters were crafted by Paul Ivy of Tripwire Toys. The guns are Soldier of the World and the shoes and shirt were acquired through Cotswold Collectibles. All in all, a phenomenal figure and a worthy hommage to the dark avenger of pulp fiction fame.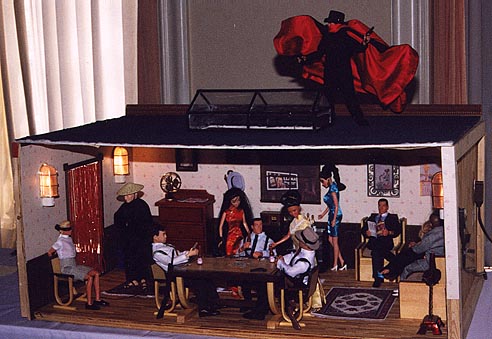 A gang of hoodlums gather in the upper floor of a brothel somewhere in the heart of New York's Chinatown, Circa 1937. Little do they realise that on the roof - poised to strike - is none other than the Shadow.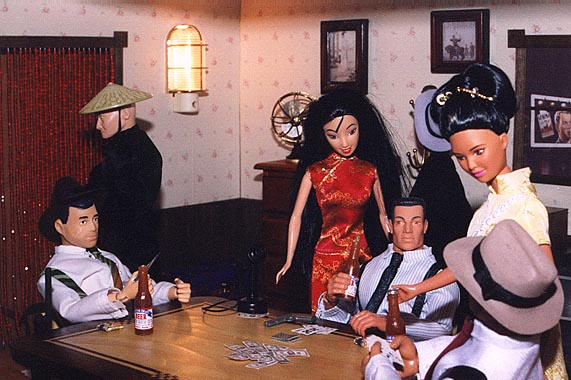 Here, the hoods drink and play cards while Madam Wu's girls cater to their needs. The beautiful table they are playing cards on was designed by Tom Wobig. In fact, Tom designed most of the furniture for this diorama. Be sure to check out his 1/6 scale furniture page by clicking here.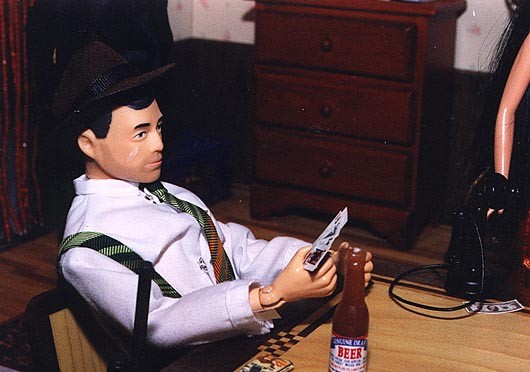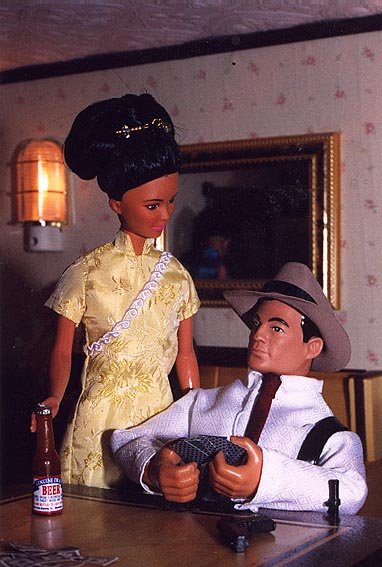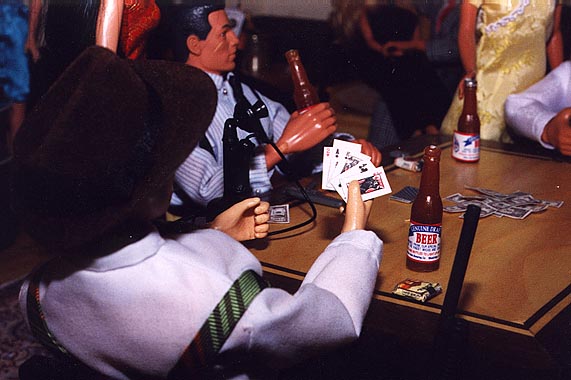 The 1/6 scale candlestick phone was designed by Scott Alexander, a Hollywood model maker and Joe collector.
Shadow Diorama Page 2